After a day spent strolling through the streets of Venice and, perhaps, a gondola tour, it's a good idea to devote some time to yourself and to your ... HUNGER!
Sitting down at a table with a view of the most romantic city in the world will only increase your desire to enjoy a typical, local dish, but watch out for tourist traps: try to avoid set menus and "lasagna alla bolognese" (which is a typical dish from Bologna, not from Venice!) 
Venice's culinary tradition, nestled between land and sea, can only offer up dishes that - in turn - borrow their ingredients from the land and the sea. And therefore, fish and polenta became the foundation blocks of Venetian cuisine. But that's not all!
We have recreated a Venetian menu, a gastronomic tour, allowing you to taste the best that Venice has to bring to the table. 
Starters 
The keyword in this case is "cicheto"! Before officially sitting down at the table, we begin with a round of "cicheti" or many small snacks accompanied by a glass of wine (called "ombra"), or better still a colourful Spritz.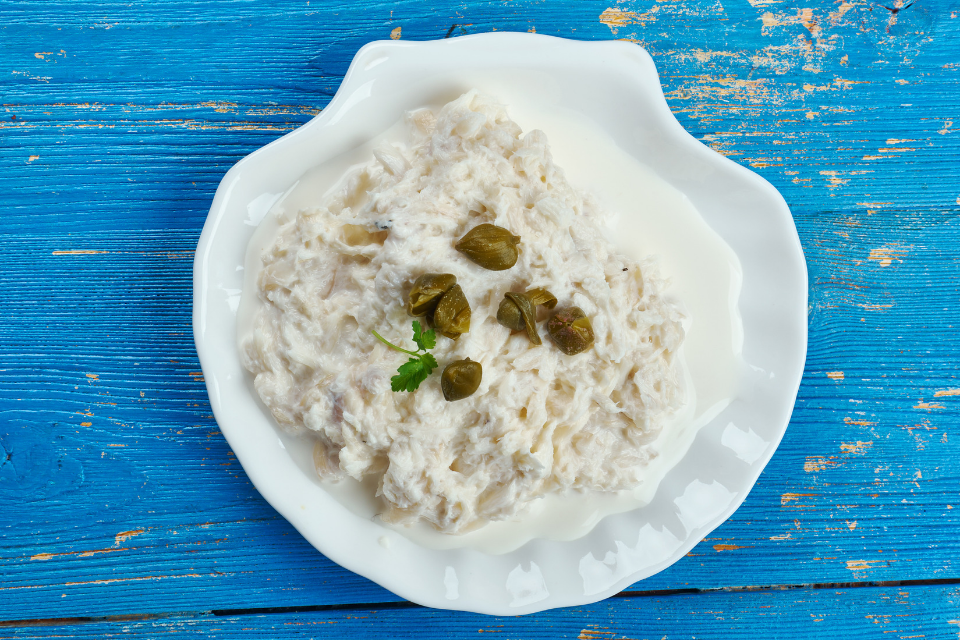 Creamed, salted cod fish
For the Venetians the dried and salted cod is the stockfish, which made an appearance in local dishes around 1500. Nowadays, it is eaten in different ways, but the creamed recipe is the most representative in local cuisine. According to the original recipe, only a few ingredients are needed: oil, salt, pepper, garlic and lemon. 
First courses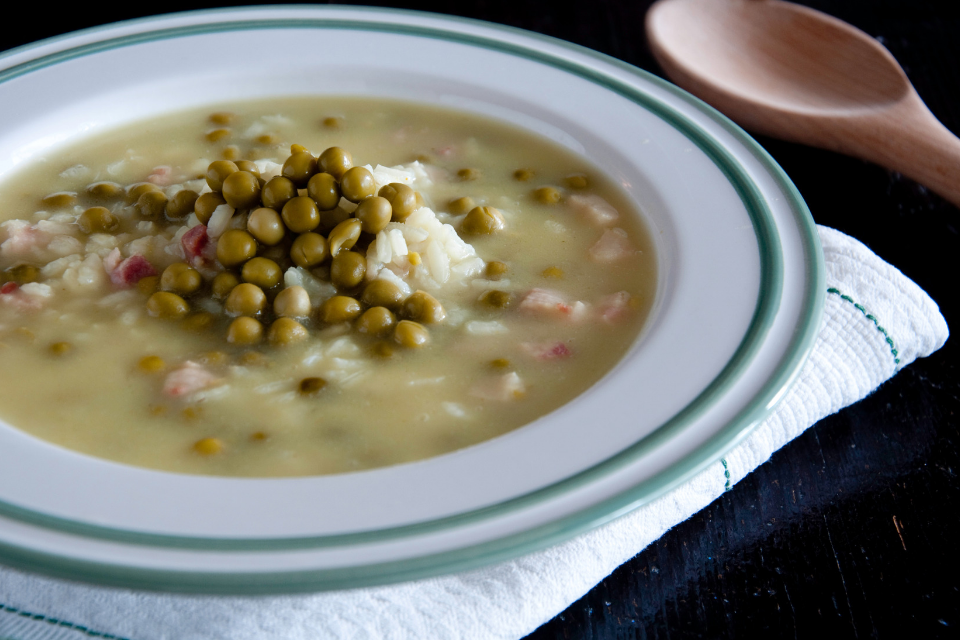 "Risi e bisi" (Risotto with peas) 
A symbolic dish for the Venetians, since the Doges wanted their 'risi e bisi' as main dishes at their banquets. Unlike the important standing of the Doges, it is actually a dish with extremely simple ingredients: rice and peas.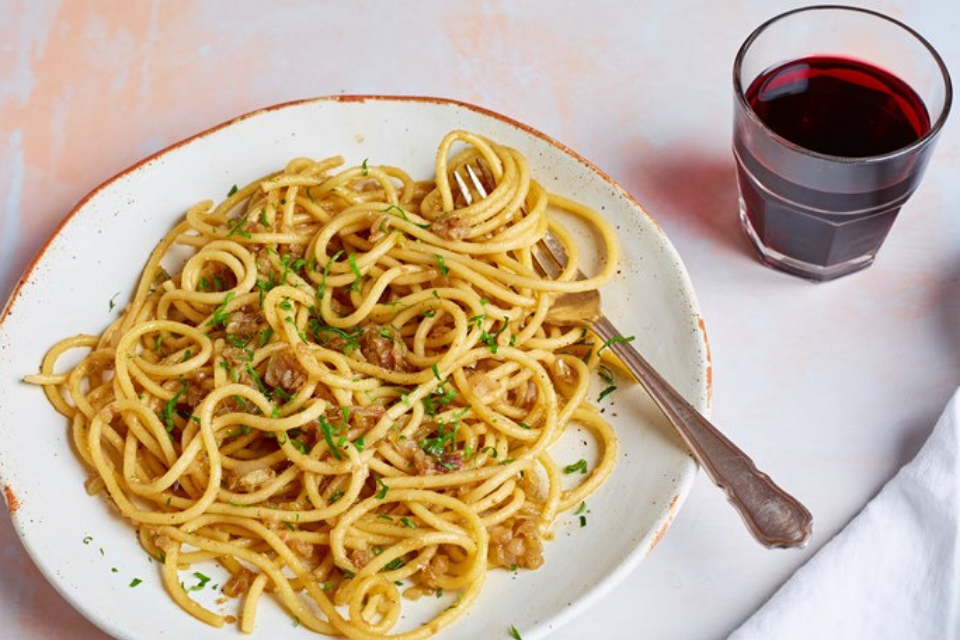 Bigoli in salsa 
Bigoli are a typical kind of Venetian pasta made with soft wheat flour, while the sauce is made with finely sliced onions and anchovies (or sardines) cooked in olive oil. 
Second courses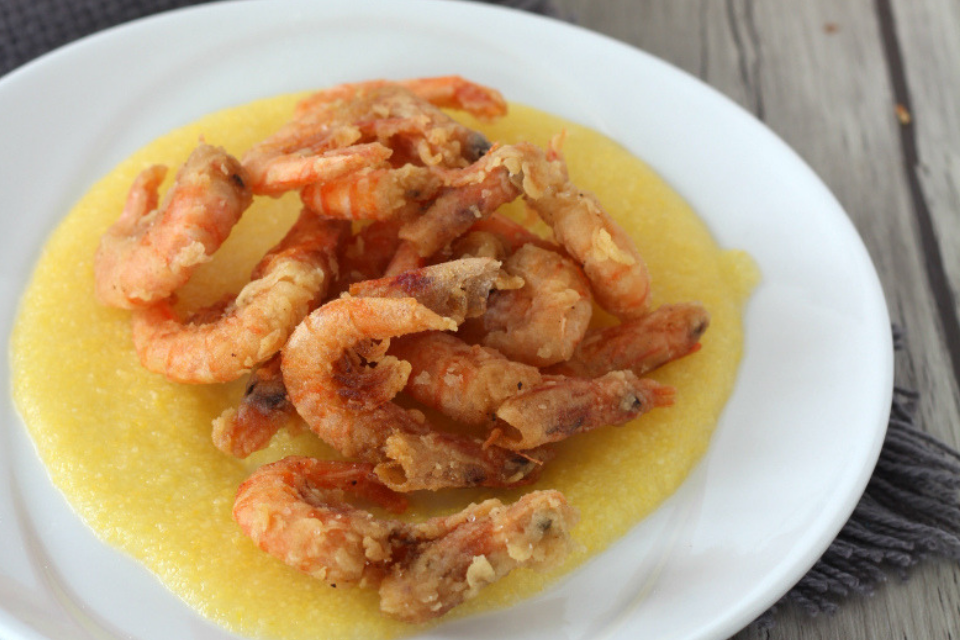 Venetian-style liver 
It is one of the most well-known dishes in Venetian cuisine: the main course is liver and what makes it special is the sautéd onion mixed with white wine vinegar and olive oil. 
Polenta and schie (lagoon shrimps) 
On hearing the word "schie" you certainly don't think of shrimps, but that's precisely what they are: boiled in water with some lemon, garlic, pepper and salt, all served on a bed of polenta. It is a very representative dish, precisely because it combines the flavours of the sea with those of the earth. 
Desserts 
Among many things, Venice is also synonymous with carnival and the carnival of sweet dough balls! In the past, the fritole (Venetian-style doughnuts) were prepared in the street by "fritoleri" in small wooden huts and sold hot, to eat on the fly. Today there are many variations on the original: some recipes include raisins, others cream or chocolate drops; they are always delicious and can be consumed all year round. 
Enjoy Venice from the canals to the table and allow yourself to be carried away by its captivating atmosphere, one-of-a-kind in the world.