If Christmas always makes everything more magical, think about what the atmosphere must be like in romantic Venice, decorated with thousands of coloured lights that are reflected in the water of the lagoon: a spectacle like no other in the world!
The atmosphere is truly unique: the streets are illuminated and decorated with reindeer, sleighs and Father Christmas, the "decorated" boats shine around the lagoon and the scent of hot frittelle (fritters) and mulled wine intoxicates the whole city; Piazza San Marco, the Rialto Bridge and the Doge's Palace are dressed to fit the theme and all Venice shines!
And if walking in Piazza San Marco around its historic Christmas tree, 14 metres high and illuminated with 3,600 LED lights is not enough for you, here is a list of markets, ice skating rinks and typical products that, with that spicy touch, will warm your heart even on the coldest days of winter.
Christmas Markets
At Christmas, gift ideas for relatives and friends can run out quickly... to find the right inspiration during your trip to Venice we suggest you take a tour among the markets scattered around the city: Strada Nuova, Campo di San Felice and Campo dei Santi Apostoli are transformed into real open-air shops, where you can find typical Venetian handicraft products and many gift ideas (including edible ones!) for your loved ones to find under the tree.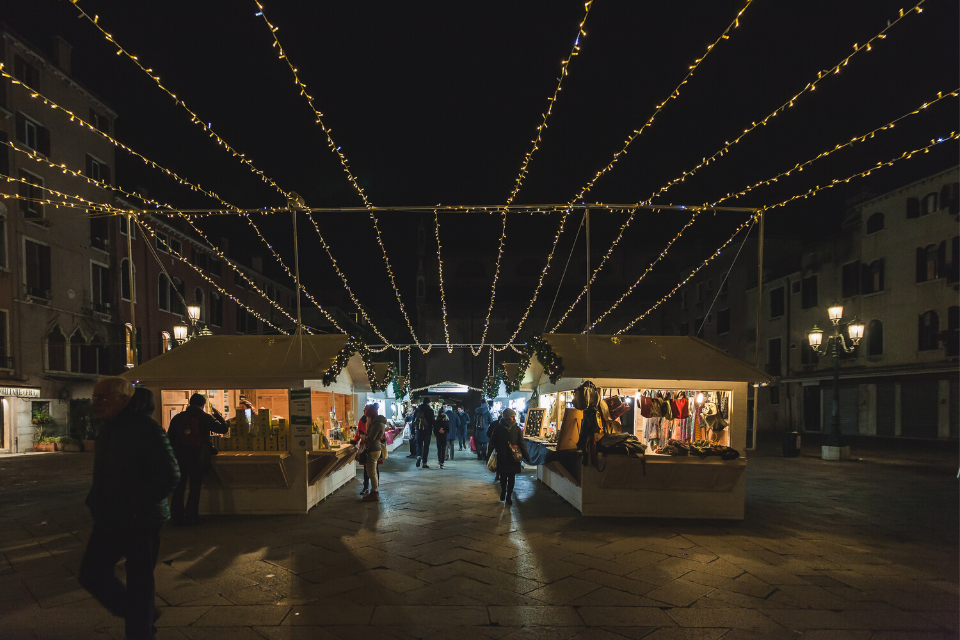 Skating rink
In Venice, it doesn't snow often, but don't worry: you can always skate on the ice rink set up in San Paolo. A truly unique and entertaining experience and a great opportunity for fun for the whole family or to challenge your friends!
Christmas at the table
If it's cold outside and you're tired of walking, all you have to do is take a break, sit in a restaurant and enjoy the typical dishes of Venetian cuisine. Start with a nice antipasto of mixed cold cuts or a steaming capon broth and then dive into the Venetian lagoon with the cod accompanied by polenta. And to end on a sweet note... a slice of pandoro from Verona!
If, after a day spent shopping at the Christmas markets you want to take refuge and rest in the warmth, the mobile homes of Camping Jolly are comfortable, functional and heated accommodations just minutes from Piazzale Roma in Venice. We look forward to seeing you!