What is an ANTS DAY?
ANTS DAYS are about being more aware of your body and improving the way you feel. It's a day of experiences aimed at reawakening feelings of personal wellbeing with a series of activities, training and sensory experiences to maintain neuroplasticity.
Neuroplasticity
Brain plasticity (or neuroplasticity) is the brain's ability to change its functions and the way it's structured, as needed. This ability is essential for physical flexibility, learning, memory, development and the renewal of brain cells. Contrary to what we've always thought, the latest scientific research demonstrates that we don't lose this ability when we get old, just when we don't have the 'right' stimuli.
A day in natural surroundings
All the activities take place in a natural, open-air environment, because when we're in touch with nature we're confronted with more positive stimuli than we encounter indoors, where we spend most of our time on a daily basis.
Nature is unpredictable. It changes constantly, stimulating us and forcing our brains and our bodies to adapt to different situations, which keeps them (or returns them to being) pliant and flexible. In a word - young!
Schedule for the day
The day begins at 9.00 am with a light breakfast comprising Noberasco products: dried fruit, seeds and fresh fruit juices and extracts made with Hurom extractors.
At this point we engage in some light physical activity using open-air training equipment. You'll be supervised by a team of professionals who will show you the right way to move your body.
There are also some wood chip paths around the ANTS area for those who like running. The layout of the paths is specially designed to provide stimuli and force the body to 'react' to the terrain, inducing you to improve your balance and movement.
 Then its time for the real breakfast: more substantial but still in keeping with our healthy philosophy for the day: wholegrain products, savoury brioches, vegetables, eggs, yogurt, muesli, fruit, juices etc.
 After breakfast it's time to play!
Fun is part of the ANTS method. As far as our body chemistry is concerned, having fun is associated with the production of endorphins, often called the 'happiness hormones'. These hormones are what give us the sensation of well-being.
What do you want to play? How about some fun on the beach volleyball and beach tennis courts. The courts are made of a special, extra-fine sand designed for sensory stimulation of the feet. It stays cool even at the hottest part of the day.
 Lunch is another opportunity for sensory exploration in addition to wellness. You'll be blindfolded during lunch. This way, as well as slowing down your eating (it's well known that eating more slowly is good for the digestion), it also stimulates your senses. When you don't have your sight to rely on, you focus more on the taste to identify what you're eating.
Of course, the lunch menu obeys the principles of a healthy, wholesome and appetising diet. For example? Venere black rice and sashimi, seasoned with extra virgin olive oil.
After lunch there's a relaxing break for everyone taking part; a chance to socialise or just enjoy the beauty of the surroundings (we're located in the beautiful Tuscan hills, between Chianti and Valdarno Fiorentino).
 At 4.00pm we get into the saddle. The super hi-tech Bianchi e-bikes with the latest generation pedal assist mean everyone can participate fully in the cycling experience, even if you're not in the best shape, and explore the area and the enchanting Tuscan scenery.
 An itinerary that you can follow in the spirit of good, healthy fun with a little adrenaline, and discover some breathtaking views and landscapes with rows of vines and vineyards, cypress trees, ancient farmhouses and gentle rolling hills.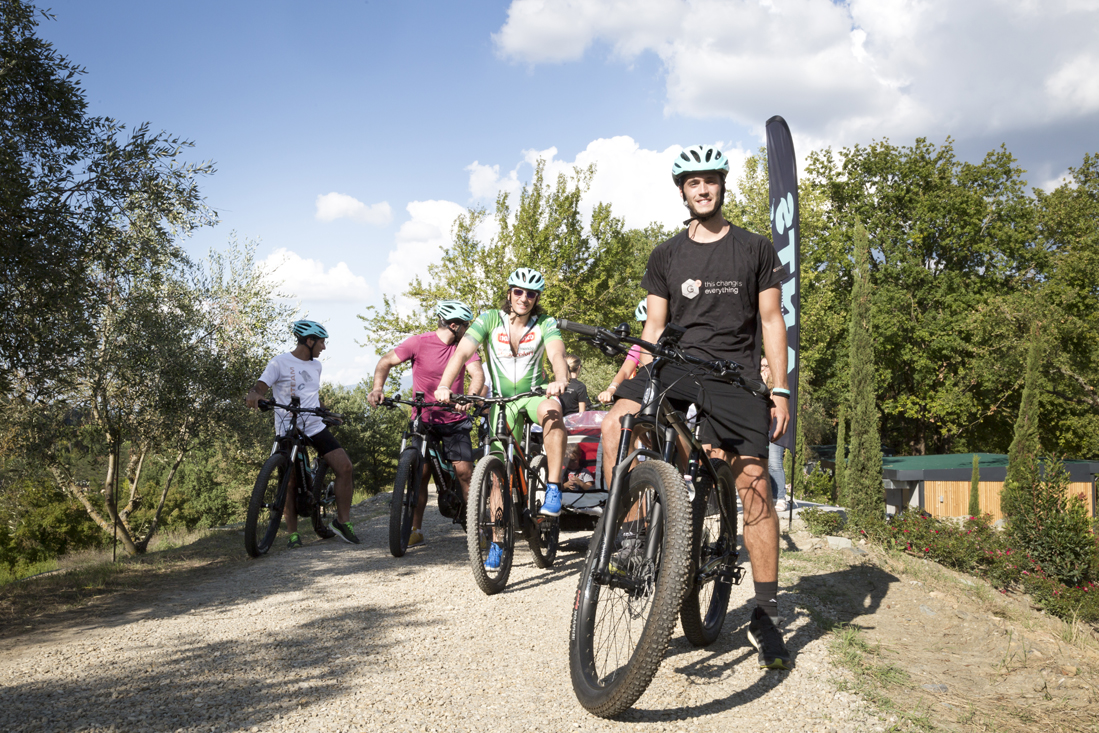 The day ends around 6.00pm with a tasting session of the excellent Tenuta La Palagina wines. The vineyard produces Chianti DOCG, Chianti Riserva, Vinsanto and other wines, and is just a short distance from the ANTS village. It's also renowned for its Laudemio, a highly select extra-virgin olive oil that's only made by 21 local producers of excellence.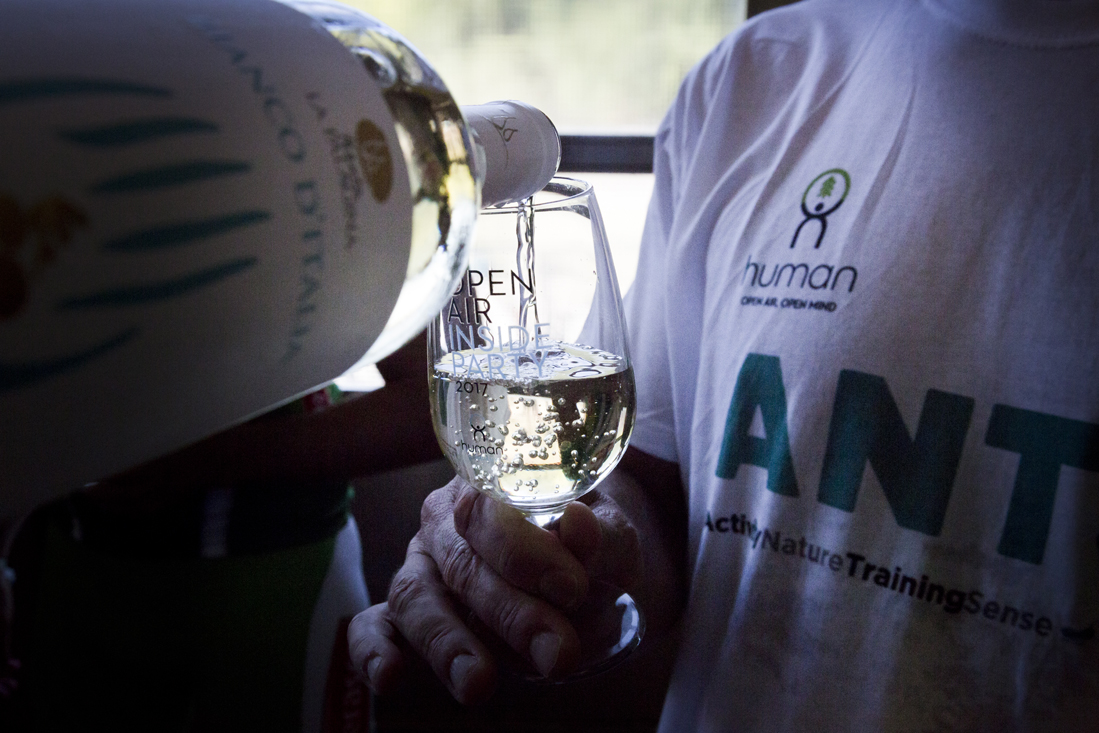 For those who want to improve their brain plasticity, there are further activities available in the ANTS Lablocated in the lower part of the Norcenni Girasole Village.
Three basic tests are carried out to determine user profiles:
the sense test which assesses the level of elasticity of the senses  
the balance test, an intelligent platform that reproduces and generates sudden disturbances during motor gestures to assess the level of balance  
the reaction test where users have to turn off random lights as quickly as possible, first with their hands and then with their feet.  
These three tests produce values that define the level of ability achieved in each area: sensory, balance and reaction. A personal programme of activities and training for sensory stimulation is then drawn up from an analysis of the results.
Innovation and wellness
You'll find many useful items of training equipment in the ANTS Lab shop if you're looking for a complete wellness experience through physical activity.
To distribute heat evenly across the surface of the skin there are G+ Directa Plus tee-shirts made of graphene, an innovative fabric that maintains body temperature in any climatic condition by conducting thermal and electrical conductivity efficiently.  
To increase the sensorial experience and get totally in touch with nature, you should also try the special Vibram FiveFingers® shoeswith 'separate toes'.
Well-being also includes the feet, which are too often trapped inside closed shoes. But these shoes allow the feet to move more naturally, almost like being barefoot.
And that's not all!
Increasing the sensitivity of your feet and being in contact with your surroundings improves the circulation of your whole body and stimulates your muscles. It also provokes an instant feeling of well-being. How many times have you had this sensation walking barefoot on the beach?
Useful information for anyone interested in an ANTS DAY
ANTS is suitable for everyone and is open to both Village guests and external visitors.
The cost for a full day is 65 euros per person, including equipment and meals. The maximum group size is 10.
The ANTS village is in Figline Valdarno, Tuscany.
The project started out in a dedicated space inside the Norcenni Girasole Village, one of the Human Company Group's first ventures, but will soon be rolled out to all the other villages.
ANTS is a method that the Human Company has researched in collaboration with Daniele Tognaccini, the creator of Milan Lab, AC Milan's high-tech interdisciplinary research centre.